Volunteer Profile: Jeremy Gordon
About Jeremy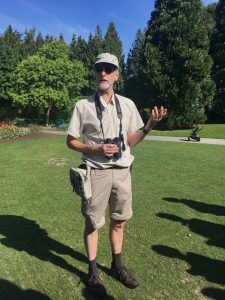 Check current Volunteer Opportunities, and you will see we are looking for a Bird Walk Co-Leader. This is the result, one could argue, of a far-off event, more than 25 years ago.
"I was exposed to bird walks while visiting Texas," says Jeremy Gordon. "I came home, and suggested we might try something like that here." The VanDusen agreed. At first occasional, the walks grew into a monthly commitment, ten months a year, rain or shine.
Jeremy now has 25 years under his belt as our one-and-only Bird Walk Volunteer. No wonder, when he identified himself at a Volunteer Appreciation Week event, his colleagues broke into spontaneous applause.
"I'm not an expert birder," he insists, a slight accent revealing his English and Australian backstory, "but I am passionate about it, and I love to share my enthusiasm." Visitors reciprocate. Along with serious birders and the casually curious, his walks attract a group of "regulars" — people who come back, again and again, across the years.
He'll acknowledge he knows a lot more than he used to, both about the Garden habitat and about birds, but, he says, the walks are basically unchanged.
Ah! One big change. Attendance. Once 10-15 people per walk, now 50 or more. Definitely time to seek a Co-Leader.
Written by Penny Williams, Volunteer Writer