Volunteer Profile: Anne-Marie Copping
About Anne-Marie Copping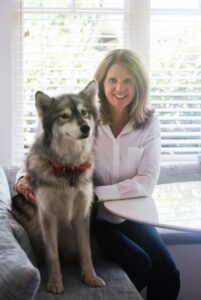 "I've always felt close to the VanDusen," says Board member Ann-Marie Copping, and it's literal truth. As a child, she not only lived nearby, she (now it can be told) used to hop over the fence for unauthorized but deeply satisfying visits.
Other events have since intervened. The VanDusen now has much taller fences, and the adult Ann-Marie spent 30 years in business management before deciding she wanted to work in the not-for-profit sector instead. That lead to seven years running Ocean Wise, with its mission to protect and restore the world's oceans, followed by a very near-miss as a 2018 candidate for the Vancouver Park Board. That brought her into renewed close contact with the VanDusen, and ultimately Board membership. She is currently working as a realtor in Vancouver.
Like her colleagues, she is active on a number of committees. "I chair the JOA [Joint Operating Agreement] Support Committee, the group that provides research to the JOA Steering Committee currently working toward a new Agreement, and I sit on the Stewardship & Sustainability Committee." S&S is quite new, she adds, still finding its feet, but focused on appropriate evolution for the physical Garden.
Her business-admin background makes her appreciate how much staff and volunteers at a not-for-profit achieve, on relatively limited resources. She talks about the skill and dedication level here in our own organization, and says people are here for the right reasons. "They're super-passionate about nature, our two venues, and Vancouver itself. They want to have impact.
Written by Penny Williams, Volunteer Writer