Online Speaker Series
2021-01-27 6:30pm - 7:30pm
A Remarkable Ice Age Megaflood in Southwestern BC
In our first Speaker Series of 2021, Order of Canada Recipient, and SFU geologist and professor John Clague discusses the remarkable megaflood that occurred in southwestern BC at the end of the last Ice Age describing the flood, its effects on the landscape and its cause.
"Floodwaters up to 100 m deep raced down the Fraser Canyon from south of Williams Lake to present-day Hope. Upon reaching Hope, the flood entered and spread westward across the Fraser Lowland before entering the sea south of Vancouver."

Biography: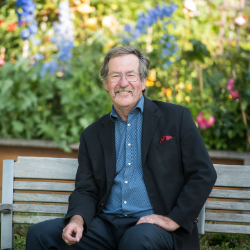 John Clague obtained his PhD at the University of British Columbia in 1973. He was employed as a research scientist with the Geological Survey of Canada from 1975 until 1998, and as a professor in the Department of Earth Sciences at Simon Fraser University from 1998 until 2016. Clague is a geologist with research specializations in glacial geology, natural hazards, and climate change. He received an honorary PhD from the University of Waterloo in 2017, and is a Fellow of the Royal Society of Canada and an Officer of the Order of Canada.