Article: Leanne Lai 'Paper and Paper and Paper'
Leanne Lai is an artist and musician from Taiwan who practices a Japanese artform called Chigiri-e—using hand-dyed paper to make pictures. View a selection of her work at VanDusen Botanical Garden's Roberta Mickelson Gallery in the Yosef Wosk Library, until August 24.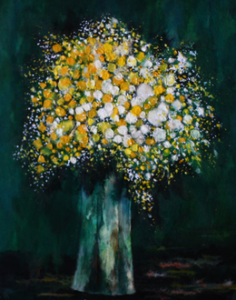 Twenty-two years ago, while vacationing in Bangkok with her husband, Leanne Lai discovered a love for handmade paper. Her friend had brought her to a weekend market where a vendor sold wreaths of handmade-paper flowers. "They were so beautiful," recalls Leanne. "We were only in Bangkok for the weekend, but I visited the market every day." She left Thailand with suitcases full of handmade paper, different colours and weights, some took thick to fold more than once, some so thin you could see through them.
"I can't explain it," she says. "The texture, the way it feels, I couldn't stop buying it. Just more paper and paper and paper." Once home in Taiwan, she started making books from the paper and sold them in a church fundraiser for tsunami relief. Seeing her passion for the material, one of her piano students (Leanne holds a Performance Diploma from the Royal Conservatory of Music in Toronto) recommended she try her hand at Chigiri-e—a Japanese artform that in English means "torn image." The primary technique uses washi (Japanese paper processed and dyed by hand from local fibre) torn—by hand, no scissors—into smaller pieces to compose an image held with rice glue.
"It's not a collage," Leanne emphasizes. "It's like painting, but with paper."
Rhythm and Blues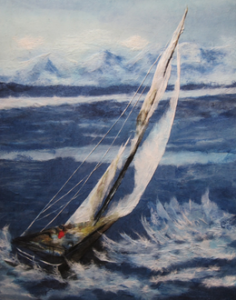 When Leanne was eight years old, she lived in the countryside of Taiwan with her parents. Envisioning a life for Leanne beyond her rural setting, her parents hired a piano teacher. "They wanted me to have an elegant skill that could take me somewhere." After two to three lessons, it was clear Leanne had a natural talent. Her father ordered a piano to be imported from Japan. Leanne remembers arriving home from school one day to find the piano in the living room. "It was like a dream," she says. "I woke up very early the next morning and ran downstairs to make sure it was real."
At first, Leanne enjoyed playing, particularly Mozart, whose sonatas she describes as "clean and soft, with few pedals and fewer notes," which she preferred over the Baroque artists that "seemed to complicate the music." But once she entered music school with a grueling seven-days-a-week schedule, her love for it waned. She longed for an artform where she felt free and expressive. In adulthood, she found that in Chigiri-e.
Flower Power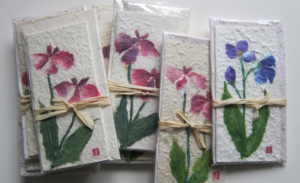 Flowers were a natural subject for Leanne who, relatively new to Vancouver, would wander the streets in awe of the spring growth. She says that coming from Taiwan, which is hotter with less seasonal differentials, she had never seen as many varieties flowers as in the Pacific northwest. "Cherry blossoms, tulips, irises, pansies," she marvels. "I don't even have to go to a garden to see them, they're everywhere." She started composing flowers in Chigiri-e, and hasn't stopped for almost twenty years. "I feel I can't quite make the flower right, so I keep trying and trying and trying."
When she teaches the technique to sold-out classes at VanDusen (which I had the privilege of attending in May) she instructs her students to really feel the paper in our hands and to imagine it is a kind of paint. From gently tearing the washi, to shaping it between our thumbs and index fingers, to pressing it into the rice glue and plying it with water, the experience—which dates back to the classical Heian period in Japan, in conjunction with calligraphy—is highly sensuous and meditative, a dance among ourselves, the material and the form. When I ask Leanne if there's any relation or connection between her Chigiri-e art and her piano practice, she laughs. "Just that my piano room is now filled to the ceilings with handmade paper."
Visit Leanne's Art Today.
Leanne Lai at VanDusen Botanical Garden's Roberta Mickelson Gallery in the Yosef Wosk Library open Monday – Wednesday 10am – 3pm until August 24th!