Volunteer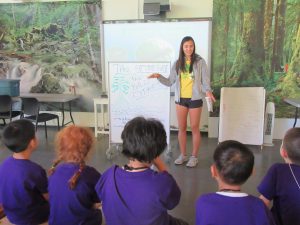 Thank you for your interest in volunteering your time and talents with the Vancouver Botanical Gardens Association.
A wide range of volunteer opportunities are available with the Vancouver Botanical Gardens Association, both at VanDusen Botanical Garden and Bloedel Conservatory. Each year, 950 volunteers contribute their time and talents in education, visitor experience, governance, administration, fundraising and special events. Volunteers are pivotal to enhancing visitors' learning and engagement experience and contributing to our mandate to connect people to plants and help them understand their role in Earth's ecosystems.
The mission of VanDusen Botanical Garden and Bloedel Conservatory is to engage people of all ages and walks of life in the importance of biodiversity to our lives, and to foster a lifelong love of plants and gardens by virtue of their participation in our programs and services. We're excited that you are interested in volunteering to be a part of this mission.
+

-

How to Start Volunteering

Your first step to start volunteering is to complete the volunteer application form. Once completed, you may sign up for currently available volunteer opportunities.

Click here to complete a volunteer application and see our volunteer opportunities 

Once you have completed your volunteer application and applied to volunteer position(s) we will review your application and resume (if applicable, which can be uploaded while completing your volunteer application form).

Our goal is to find a great fit between volunteer talents, passions, and skills and align them with volunteer opportunities where both the prospective volunteer and the volunteer program can best flourish. Hence, for many roles you can expect to have a phone interview to allow you to learn more about the opportunity and for us to ensure we have a great fit. References and criminal record checks may follow based on the role.

Once assigned to a volunteer position, we ask all volunteers to read and become familiar with our Volunteer Handbook. Volunteers will also receive orientation and role specific training. Ongoing support, guidance, and recognition can also be expected.

Please contact Heidi Jakop, Director, Volunteer Engagement at hjakop@vandusen.org  or 604.257.8674 for further information.

Thank you again for your support!
+

-

The Volunteer Experience

"Volunteering has been a passion of mine for most of my adult life and I benefit from the feeling that I am giving back to the community through volunteering. One finds that the responsibilities and diversity of volunteering play a big part in developing a fuller life. At VanDusen Gardens, the opportunity to welcome visitors and members captivating them and making their visit very special is a constant reminder as to what is so unique about the Visitor Services Desk." –  Linda

"It is a wonderful experience for me to volunteer at VanDusen Garden. All the leaders and the teacher are really nice and gentle, and the nature and the kids are amazing. It is great to see kids having contact with nature, learning, and not just play with their electric device. The thing that I enjoyed most is the environment and the friendly atmosphere in VanDusen Garden. I enjoy helping people, and all the time I have been treated as part of the team. Every time I reached VanDusen garden, my mood turns good." – Esther (Yue Ning)

"I had a fantastic time with the summer camp in the short time I was there! I enjoyed the garden's atmosphere and exploring it with the campers. The children were very energetic and being able to be with them the whole day was exciting. It was a pleasure to accompany them while they learned and played, and I'm very glad that I was able to contribute. I'd love to volunteer at VanDusen again in the future!" – Judy

"I'd like to thank VanDusen camps for the opportunity to volunteer with them. I not only had a ton of fun with the kids, but I also learned how to deal with different types of challenges and awkward situations throughout the course of 5 short days…

"Working with kids challenged my mind to think creatively and objectively to resolve an identified issue. Most importantly, though, I'd like to thank VanDusen camps for reminding me to tap back into my "inner child", which believes that nature is the fascination that brings me, my friends and my family the most joy. 

Thank you for all your time and efforts, Chantal! And thank you VanDusen! I'll definitely be back soon with my family for more adventures." – Kelly
Recognizing the Impact of our Volunteers
Volunteers are pivotal to our work connecting people to plants. The impact of Volunteers can be measured through countless interactions with guests, such as a child's wide-eyed amazement as she explores the Conservatory with a Docent who brings the experience to life. In 2017, Volunteer Docents had 22,531 interactions with visitors, Guides provided 15,544 guests with walking and cart tours, while our Information Desk Volunteers supported 13,888 guests. 950 volunteers contributed 45,000 hours during 2017.
More important than numbers alone are the people who have been inspired, educated, and connected to plants through volunteer efforts. Thanks to volunteers, school groups experience engaging educational opportunities; visitors are inspired and informed as they explore the library over extended hours; gardeners locally and across the globe can bring home a piece of VanDusen through planting our seeds; and our annual Plant Sale brings the community together and raises much needed funds. Thank you, together we are able to achieve our mission.
The VBGA has a wide array of volunteer opportunities and these dedicated teams, really bring the Garden to life. This year we wish to acknowledge and celebrate 3 of these volunteer teams.
Volunteer Resources: Handbook, Tutorials, and Guidelines
Better Impact (MyVolunteerPage or Volunteer Hub) tutorials